Beretta
470 Silver Hawk
Silver Essential & Onyx
Silver Pigeon & Ultralight
S687 Shotguns
AL390 Semiauto
AL390 Special
A304 Lark s/a
Pintail & 1201 FP
AL390 Competition
Sporting Clays
S682 Gold series
S687 EELL
ASE Gold
SO5 Shotguns
SO6 Shotguns
SO9 Shotguns
SS06 & 455
S689 Sable
Exceptional balance and smooth, easy handling make Beretta Over-and-Unders the favorites of hunters worldwide.

The Silver Essential-Beretta's basic over-and-under. Here's a functional, working gun for the serious hunter. It's a no-frills shotgun with all the operating systems and safety features that make a Beretta, a Beretta. The straight-grained stock is selected for strength and durability and highlighted with clean, cut checkering on the pistol grip and fore-end. The low profile receiver and slim fore-end enhance pointability. Bores and chambers are chrome-lined for extra durability. The open side rib design results in a faster swing, light weight and faster cooling.Long life and durability are assured by the perfect mating of Monobloc and barrels, self adjusting, dual conical locking lugs and strong, replaceable hinge pins.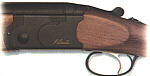 The receiver is finished for extra durability and corrosion resistance with brushed chrome, while barrels are finished in matte black.The tough stock and fore-end are made to stand up to years of abuse in wet duck blinds or dry, dusty days afield. The Silver Essential is chambered for all 2-3/4 inch and 3 inch shells. It is available in 12 gauge with 26 inch or 28 inch barrels. Feature for feature, the Silver Essential is an unbeatable value

The S686 Onyx- a hunting partner with a classic look. The ventilated rib, barrels and receiver of the Beretta Onyx are semi-matte satin finished to eliminate reflection and glare in the field. Inside, bores and chambers are fully chromed for unmatched durability and corrosion resistance. Its low profile closed receiver provides the balance and pointability that are distinctively Beretta. The 12 gauge Onyx chambered for 3-1/2 shells is specially designed to help you bag turkey and waterfowl. The stock and fore-end are cut checkered and made of American walnut. The semi-beavertail style fore-end features finger grooves for an instinctive hand hold and improved grip. The top of the receiver is embellished with coined scalloped fences. Gold accents the trigger, and a gold-filled "P. Beretta" signature highlights the receiver. A grip cap adds a stylish statement. Available in 12 and 20 gauge.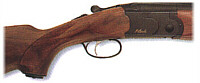 Silver Essential & Onyx Over-and-Under Specifications
Model
Gauge
Chamber (mm/in)
Chokes
Barrel Length (cm/in)
Overall Length (cm/in)**
Average Weight (Kg/Lbs)°°
Stock Drop Comb (mm/in)
Heel
Length of Pull (mm/in)
67/26
71/28
75/30
Silver Essential
12
76/3
MC
•
•
116/45.7
3.05/6.7
35/1.4
55/2.2
368/14.5
S686 Onyx
12
89/3 1/2
MC
•
•
•
116/45.7
3.15/6.9
35/1.4
55/2.2
368/14.5
S686 Onyx
12
76/3
MC
•
•
•
116/45.7
3.10/6.8
35/1.4
55/2.2
368/14.5
S686 Onyx
20
76/3
MC
•
•
116/45.7
2.80/6.2
35/1.4
55/2.2
368/14.5
All models equipped with ventilated, field type (6mm)rib.*MC- Mobilchoke® tubes standard. Fixed chokes available on request.° Indicates optional barrel lengths available on request.°° Overall length based on 28" barrel unless shotgun unless otherwise specified.** Weights are approximate, dependent on wood density and barrel length.
Mobilchoke® System Mobilchoke® screw-in choke tubes are made of high-grade steel with a nickel-plated finish for corrosion resistance and durability. They are fully interchangeable between all Beretta Semi-Automatic and Over-and-Under shotguns. The locking wedge design ensures that the taper on the base of the choke tube locks into the taper of the barrel to provide a positive gas seal and a safe lock-up of choke to barrel. Fitting flush with the end of the barrel, Mobilchoke® tubes are steel-proofed to withstand the rigors of non-toxic steel shot. The conical parallel design, with the choke tapering and running parallel out to the muzzle end, improves pattern uniformity and density. Their long length creates a more gradual taper inside the choke tube, resulting in reduced shot deformation and better patterns because of improved uniformity and increased pattern density.
Extra long choke tubes are available and are designed to fit both single-barrel and double-barrel shotguns. Extending 1 inch beyond the muzzle and measuring 3 inches overall, their longer, tapered shape enhances shot patterns by providing better support of the shot column and less pellet deformation. The knurled extension on the tube allows for easy removal and replacement by hand, without tools. The trapezoidal threading system, with its steeply pitched threads, allows for fast, easy installation and removal, while preventing the choke from seizing in the barrel. A convenient, user-friendly wrench is supplied with the Mobilchoke® system.
Fixed Chokes & Beretta's Mobilchoke® Designations
Choke
Designation
Standard
Markings
Mobilchoke®
Rim Notches
Designation for Mobilchoke®
Compatibility with Steel Shot*
Extra Long Tube
Full
F
0 (*)
I
SP(¹)
•
Improved Modifield
IM
00 (**)
II
SP(¹)
•
Modifield
M
000 (***)
III
SP
•
Improved Cylinder
IC
0000 (****)
IIII
SP
•
Cylinder
CL
C0000 (C****)
IIIII
SP
•
Skeet(2)
SK
SK (Skeet Beretta)
No Notches
SP
•
*The use of steel shot cartridges is not recomended in both over-and-under and side-by-side shotguns with fixed chokes. (¹) Full choke constriction when utilizing steel shot does not increase pattern density associated with lead. (2) Special Beretta skeet choke with negative value. Mobilchoke® is a register trademark of Fabbrica D'Armi Pietro Beretta, S.p.A.