Beretta
470 Silver Hawk
Silver Essential & Onyx
Silver Pigeon & Ultralight
S687 Shotguns
AL390 Semiauto
AL390 Special
A304 Lark s/a
Pintail & 1201 FP
AL390 Competition
Sporting Clays
S682 Gold series
S687 EELL
ASE Gold
SO5 Shotguns
SO6 Shotguns
SO9 Shotguns
SS06 & 455
S689 Sable



The Beretta AL390 is much more than a semi-automatic that does everything well.
It's the only semi-automatic that does everything as well as a Beretta.
So it's the only semi-automatic you can use with absolute confidence, regardless of game, target or season.

The most user-friendly semi-auto a hunter can own. The AL390 is nearly one-half pound lighter than the A390, so pointability and ease of swing are enhanced. Yet the new, lighter AL390 has less felt recoil than before and retains its perfect Beretta balance.
The AL390 achieves its weight reduction with refinements to the stock, a narrower fore-end, lighter fore-end cap and subtle changes to other components.
You'll find new checkering patterns, a reshaped pistol grip for improved handling and a new comb for better fit.
The flawless "all-load" performance that has made the A390 a hunter's favorite remains the same in the new AL390. Use the Beretta AL390 for everything from upland birds to waterfoul, to turkey or deer. Absolutely no adjustments of any kind are required to accommodate different loads. A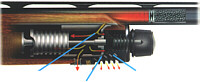 convenient magazine cut-off allows the shooter to empty the chamber for safe handling, or to slip in a different load without cycling any shells remaining in the magazine.

You'll get years of trouble-free service.

The extensive use of high-strength stainless steel and aluminum alloys makes the AL390 almost impervious to stress and corrosion. The solid receiver is precision machined from lightweight alloy that is as strong as steel. All operating parts are made of

high-performance steels and aluminum alloys and are carefully hand assembled, checked, and cycled hundreds of times before they leave the factory to ensure trouble-free performance. Beretta's unique self-compensating

gas system substantially reduces stress on the gun's operating parts when heavy loads are fired. In exhaustive tests, the system has performed with perfection, round after round, over the entire range of factory loaded shells, from one ounce target loads to the heaviest 3 inch magnums. Because of its simple design, the AL390 is remarkably easy to disassemble for cleaning and maintenance.
Beretta's AL390 Stock Drop & Cast Spacer System-because one size gun does not fit all. We designed the AL390 to bring the fit of a custom stock within everyone's reach by utilizing an ingenious, easily adjusted system of drop and cast spaces for quick adjustment of both the vertical and horizontal angle of the stock to fit each shooter's size and shape. Spacers are provided with every AL390.Both cast and drop spacers are marked with metric dimensions followed by DX or SX. DX numbers refer to right hand/cast-off and SX numbers refer to left-hand/cast-on. By rotating the spacers so the numbers (e.g. 50 or 65) correspond, the stock can be raised or lowered and adjusted for cast-on/cast-off.
The various stock drop adjustments provided by these spacers are detailed in the chart at right.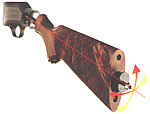 Al Stock Drop & Cast Washers
Trap
40
45
40mm (1.57 in)
45mm (1.77 in)
Field
55
60
55mm (2.17in)
60mm (2.36 in)
Skeet
Sporting
50
65
50mm (1.97 in)
65mm (2.56 in)
Dimension are approximate