The

unique boxlock design of the ASE Gold action features a Beretta cross bolt breech lock system-considered by many to be strongest type of lock-up in the world. Replaceable hinge pins and barrel-bearing shoulders assure that these guns will provide a lifetime of exceptional service. The barrels are cold-hammer forged from pre-bored bars of Boeheler Antinit steel. Top and side ribs are ventilated for maximum heat dispersion to maintain a clear sight picture.

The ASE Gold action is built around a masterpiece of engineering design and execution. Beretta's drop-out trigger group exhibits all the detail and precision of a fine timepiece. It is easily field removable for inspection and maintenance. All internal surfaces are carefully polished and the trigger group frame is jeweled. No special tools or fitting are necessary for the ASE Gold trigger group. The safety and barrel selector switch operate in the same manner as all over-and-unders, and since there are no modifications to these controls, you don't have to worry about learning a new system just to get a drop out trigger group. The single selective trigger is adjustable for three different length-of-pull dimensions. "V" shaped mainsprings ensure lightning fast lock times and ultra-crisp trigger pulls. Spare trigger sets are available and are fully interchangeable without factory fitting.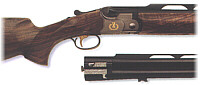 Stocks and fore-ends that meet the special needs of trap, skeet and sporting clays. ASE Gold competition stocks and fore-ends are cut from the finest highly figured walnut, then hard finished and fine-line cut checkered by hand in Beretta's SO Shop. Palm swells are standard. The wood to metal fit

and finish are exceptional.
The ASE Gold Trap comes with a choice of International or Monte Carlo stock and semi-beavertail fore-end with finger wells and is available in the full range of Beretta trap offerings, including mono and combo sets.
The ASE Gold Skeet features a traditional skeet stock with leather-covered rubber recoil pad and special skeet rib.
The ASE Gold Sporting

has a trim sporting-style stock with palm swells, Schanbel fore-end and wide sporting clays competition rib.