Beretta
470 Silver Hawk
Silver Essential & Onyx
Silver Pigeon & Ultralight
S687 Shotguns
AL390 Semiauto
AL390 Special
A304 Lark s/a
Pintail & 1201 FP
AL390 Competition
Sporting Clays
S682 Gold series
S687 EELL
ASE Gold
SO5 Shotguns
SO6 Shotguns
SO9 Shotguns
SS06 & 455
S689 Sable
Beretta's premier competition gun, the SO5 is available in trap, skeet and sporting clays versions developed with finishing touches specific to each sport. They offer all the uncompromising design features that mark it is a true Beretta Premium Grade.

The quality of the materials, craftsmanship and manufacturing processes used to create these extraordinary guns guarantee these superior reliability and performance. Barrels are constructed of cold forged Boehler Antinit Steel, assuring perfect alignment of these tubes, exceptional strength and log-lasting corrosion resistance.
They are carefully checked for ballistic performance and shot pattern. To minimize locking stress while shooting, the "cross bolt" type locking system operates on Monobloc lugs positioned at the top of the upper axis. Shoulder are replaceable. The low profile action body is exceptionally sleek to enhance swing and pointability in the heat of the competition. The true sidelock design is simple and reliable, renowned for its extremely quick lock times and ultra-crisp trigger pull. The competition type, ventilated rib is hand-file checkered to reduce glare and features a white or luminous front sight for difficult low light conditions with mid bead. Competition pistol grip stock and fore-end feature left or right hand palm swell and are crafted from carefully selected, highly figured walnut. They can be sized and dimensioned to the shooter's individual specifications. Each is finished and checkered by hand with the utmost care.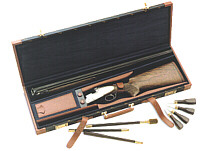 Details like the knurled trigger provide and extra edge. Wood-to-metal fit is exceptionally fine...clearly exhibiting that care and attention to detail that can only come with true hand-craftsmanship. The sideplates of the SO5 are beautifully hand-engraved with light scroll pattern and finished to Beretta's extremely high custom standard. The floorplate is embellished with a fine gold inlay of the "P. Beretta" signature on the coin silver finish. The gun comes complete with fitted carrying case and a set of maintenance tools.

The incomparable SO5 is available in Sporting, Trap and Skeet models that meet the specific needs of competition shooters.
The SO5 Sporting features a single selective trigger, stock crafted of highly figured walnut with deep diamond hand-cut checkering, a special rubber recoil pad and a Schanbel fore-end for enhanced control and pointability.

The SO5 Trap features a single, non-selective trigger, an International style or Monte Carlo stock with special trap rubber recoil pad and a heavier semi-Beavertail competition fore-end.
The SO5 Skeet

features a competition skeet stock with deep diamond hand-cut checkering and a heavier semi-Beavertail competition fore-end. Hand checkered butt-plate or special skeet rubber recoil pad are available on request.

S05 Competition Shotguns Over-and-Under Specifications
Model
Gauge
Chamber (mm/in)
Chokes
Rib Type

Barrel Length (cm/in)

Overall Length (cm/in)

Average Weight (Kg/Lbs)**

Stock Drop Comb

Heel

Length of Pull (mm/in)

66/26
71/28
75/30
81/32
SO5 Sporting
12
76/3
MC
T
•
•
115.0/45.3
3.40/7.5
35/1.38 38/1.50
56/2.20 60/2.36
3.73/14.7
SO5 Trap
12
70/2¾
Fixed
C
•
•
•
119.5/47.0
3.70/8.2
28/1.10 30/1.18 32/1.26 34/1.34
38/1.50 40/1.57 42/1.65 44/1.73
373/14.7
SO5 Skeet
12
70/2¾
Fixed
T
•
•
115.5/45.5
3.40/7.5
35/1.38 38/1.50
56/2.20 60/2.36
373/14.7
Rib types: C-Competition T-Tapered (10 to 8 mm) *MC Mobilchoke® tubes standard. Fixed chokes available on request.** Overall length based on: 28" barrel shotgun for Skeet and Sporting models, 30" for Trap models, unless otherwise specified.°° Weight are approximate dependent on wood density and barrel length