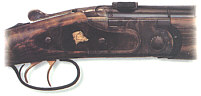 You can also zero in on your target using the V-notch rear and front blade sights. For added versatility and to increase your shooting pleasure, all three versions of the Sable can be fitted with a set of 20 gauge shotgun barrels.

S689 Sable Over-and-Under Express Rifles come in three distinctive versions.

Each of these magnificent guns features automatic ejectors and over-and-under Beretta rifle barrels-made from hardened, cold hammer-forged, high-strength nickel-chromium-molybdenum steel -known for their durability and accuracy.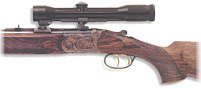 The S689 EELL Diamond Sable is available in your choice of .30-06 or 9.3x74R chambering. It is embellished with gold inlaid game heads on a color case hardened receiver with full side plates. 20 gauge shotgun barrels may also be fitted to these guns. Diamond Sable models are supplied with a hook-in base Zeiss® Diatal Scope System.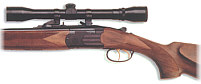 A fine leather custom fitted case provides the perfect place to store this exceptional gun.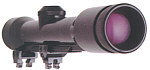 The S689 Gold Sable is also available in your choice of .30-06 or 9.3x74R chambering. It displays light scroll engraving on a color case-hardened receiver. The gun can be safely secured in its custom fitted genuine leather case.
The S689 Silver Sable is chambered for .30-06, 9.3x74R and .444 and features open barrel construction for enhanced heat dispersion and a specially styled receiver. On request, a hook-in base Beretta 4x32 scope system is available. All three S689 Sable models share the outstanding performance characteristics that make Beretta Express Rifles the choice of hunters from Africa to the Americas.