An advanced locking system for generations of service.

Beretta's
unique SO9 locking system is constructed with a double longitudinal bolt that engages internal Monobloc lugs in the receiver body. These are positioned above the upper barrel axis to minimize stress when firing and provide an exceptional long life. The fully functional sidelocks are mounted on pins machined directly from the side plates. This eliminates the need for through

pins, enhancing the aesthetic quality of the receiver and giving the master engraver an uninterrupted canvas on which to express his creativity. At the customer's request, The SO9's side plates can be fitted with removable thumb screws to enable quick and easy inspection and cleaning of the jewel-like internal working parts.

Transforming receivers into works of art. The SO9 receivers are exquisitely hand engraved by master engravers using the Bulino technique and individually signed by the artist. The customers may state a preference for fine English scroll, classic game scenes or special order custom engraving of their own preference.

Barrels built to endure.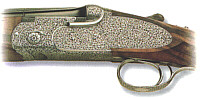 The barrels of the SO9 are cold-hammer forged from blanks of Boehler Antinit steel, ensuring absolute concentricity for light weight and exceptional strength and corrosion resistance. The insides of the barrels are carefully polished to a mirror finish. Beretta's patented Monobloc system guarantees perfect barrel alignment and outstanding strength. The meticulous hand blueing process imparts a high luster finish designed to endure through the years as the gun becomes a family heirloom.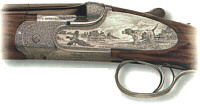 Details make the difference. Stocks of select European walnut briar are shaped, then hand-carved and carefully oil finished. Extra fine-line hand checkering is then applied for exceptional appearance and a non-slip grip. The pistol or English stock and the fore-end are constructed and sized to the customer's specific requirements. A mechanical type, non-selective single trigger is standard. At the customer's request, a classic double trigger may be installed. Every SO9 is supplied with a fine fitted leather case and a complement of maintenance tools and accessories.