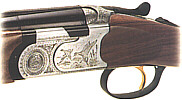 Numerous standard design features deliver exceptional performance. The low profile closed receiver keeps out dirt and residue. Hard chrome-lined bores and chambers resist corrosion. Strong Monobloc construction provides true barrel alignment. The slim fore-end and low profile design help improve control, bringing the shooter's eye and hands into alignment with the barrel for improved pointability and quick tracking. The Silver Pigeon is available in 12, 20 and 28 gauge versions, as well as 20/28 gauge combo set.

The S687 Silver Pigeon is enhanced by exquisite game scene engraving. Handsome game scenes and scroll engravings on the high luster, coin silver finished receiver add distinctive

touches to this field gun. Beretta craftsmanship is evident in the fit, finish, detail and seamless flow of select woods and polished steels. The stock, made of select walnut, is fine line cut checkered. The Schnabel fore-end provides for a quick, instinctive swing. Barrel bores and chambers are hard chrome-lined for superior corrosion resistance.
The unique Beretta Ultralight is the perfect companion for hunters on the move. A full-featured 12 gauge weighing in at less than a typical 20 gauge makes this an upland hunter's dream. Ultralights are designed to emphasize durability, safety and

reliability based on Beretta's sixty-plus years of experience in the utilization of lightweight alloys. The Ultralight's receiver is machined from a single block of light, yet remarkably strong aircraft-quality aluminum alloy, specially heat-treated to deliver the strength and durability of steel with 65% less weight. A special titanium insert into the breech face provides the strength to withstand the punishment of years of use in the field. The receiver is engraved with game scenes and rich scroll work and finished in

an elegant electroless nickel process. Barrels

are highly polished and blued. Whichever of these three guns you select, it will offer all the advanced design and performance features that have made Beretta Over-and-Unders the hunter's favorite choice for generations.