The S682 Gold's low profile, box-lock receiver is machined from a solid steel forging and specially heat treated for exceptional toughness and strength. Its closed design keeps dirt and powder residue out of the action, reducing maintenance and helping to ensure absolute reliability.

Details make the difference.

Triggers on all S682s are adjustable for length of pull fit to three positions. Two trigger shoes are supplied: one with a canted surface for right-handed shooters and one with a wide, symmetrical face. Trigger pull is precise and quick lock times assured through the use of powerful coil springs and tough alloy firing pins. Beretta S682 Gold competition guns have cold hammer rotationally forged barrels to be significantly stronger. Barrel bores and chambers are hard chromed to ensure long life. Barrels are finished with non-reflective matte black coating that also dissipate heat. Fixed chokes or Mobilchoke® choke tubes system can be specified. Ventilated top ribs are designed for each discipline with ventilated ribs, standard on all S682s. Stocks are matched to each individual shooting discipline. Wood density is selected for strength, and wood grain is carefully laid out to avoid weak areas. Fore-ends are designed to sit higher on the barrels for a more natural hold that better aligns the shooter's eyes and hands for enhanced pointability. Rib and sight dimensions are tailored to the particular demands of trap, skeet or sporting clays. All S682 Gold models are supplied with a fitted ABS hard case.

The S682 Gold Trap...a proven winner; it features a select walnut stock in a choice of International or Monte Carlo style, with interchangeable rubber recoil pad. The ventilated rib is available in a flat international configuration or with a high stepped rib (see X Trap models). An adjustable comb stock is available which ensures a perfect fit by allowing shooters to adjust for comb height and for cast-on, cast-off. The heavy duty adjusting mechanism features a patented locking system so settings remain secure and unchanged. An indicator scale provides for quick, easy calibration. The S682 Gold Trap is available in over-and-under, top mono or combo sets.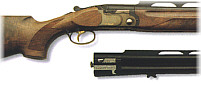 The S682 X Gold Trap features a high stepped ventilated rib for improved sighting and heat dissipation. A Monte Carlo stock is available in three different dimensions to assure proper fit. All Beretta S682 Gold X Trap series competition guns can be equipped with top mono, over-and-under or combo barrel set.