Beretta
470 Silver Hawk
Silver Essential & Onyx
Silver Pigeon & Ultralight
S687 Shotguns
AL390 Semiauto
AL390 Special
A304 Lark s/a
Pintail & 1201 FP
AL390 Competition
Sporting Clays
S682 Gold series
S687 EELL
ASE Gold
SO5 Shotguns
SO6 Shotguns
SO9 Shotguns
SS06 & 455
S689 Sable
The ideal shooting companions. Perhaps that best describes the high level of esteem to which discriminating shooters around the world hold Beretta Premium Grade. Whenever men hunt or compete, these unique custom crafted firearms set standards of matchless performance and unrivaled beauty to which all other makers aspire. First designed and produced in 1933, Beretta Premium Grade Over-and-Unders immediately won fame among the most prestigious and most elegant shotguns in the world. Since that time, they have been refined and improved in every respect: design, materials, safety, assembly, finish and engraving, and lastly-performance.
Beretta SO6 -The stunning Over-and-Under that augments the exceptional qualities of the SO lineage.

Pick one up, and you know it's special. The low-profile action body of the 12 gauge SO6 is elegant, graceful and slender. The massive cross-bolt locking system engages barrel lugs that are forged as an integral part of the Monobloc. These lugs are positioned above the center axis of the top barrel to minimize stress when the gun is fired. The ventilated rib is hand file-cut. The stock pistol grip or straight English grip -and fore-end are carved out of highly figured European walnut briar, shaped and finished with hand-cut, deep diamond checkering.

Simple safe and extremely reliable sidelocks can be supplied in a removable version with thumbscrews, facilitating quick and easy inspection of the superbly finished, jewel-like firing mechanisms. A double trigger is standard, and single selective or single non-selective trigger are also available. Fixed choke or interchangeable Mobilchoke® barrels are available. The SO6 model is finished with light engraving. A fitted leather case, with tools and accessories, is supplied with each SO6 Premium Grade.

The SO6 EELLs are embellished with the finest hand-engraving.
Floral motifs, traditional game scenes, exotic subjects, fine English scroll, mythological scenes, gold inlayed animals...the most sophisticated and varied engraving styles can be executed to meet your personal taste and requirements. Our master engravers can work from a variety of standard patterns, or from a design of your own creation. The SO6 EELL uses some of the finest walnut briar wood available. Removable side plates are an additional option.
The distinctive new ASE Deluxe Over-and-Under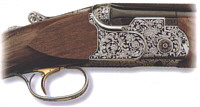 features elegant hand-engraved floral motifs and highly figured stock and fore-end cut from the finest walnut, selected for durability as well as looks. The ASE Deluxe is made into the same renowned SO Shop that gives birth to the matchless Beretta Premium Grades. The box lock type receiver features the same locking system as found on the SO6 receiver. Machined from a single block of nickel-chromium-molybdenum steel, it receives a thorough hardening treatment for outstanding and durability. The breech is locked by a cross bolt engaging two Monobloc lugs. Replaceable hinge pins and barrel bearing shoulders guarantee the longest possible life for this fine firearm.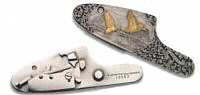 The barrels are cold-hammered from pre-bored bars of Boehler Antinit steel. The ASE Deluxe is available in Field and Competition configurations.
S06 & ASE Deluxe Premium Grade Specifications
Model
Gauge
Chamber
Chokes*
Barrel Length
Average Weight (Kg/Lbs)°
67/26
71/28
75/30
81/32
SO6
12
70/2¾or 76/3
Fixed or MC
•
•
•
3.30/7.3
SO6 EELL
12
70/2¾or 76/3
Fixed or MC
•
•
•
3.30/7.3
ASE Deluxe
12
70/2¾or 76/3
Fixed or MC
•
•
•
3.40/7.52 to
3.90/8.63
Rib type and stock dimensions are fitted to customer specifications. Beretta Barrel with Mobilchoke® system available on request.° Weights are approximate, dependent on wood density and barrel length.